J GO's 'Winter Sol' is the gallery's biggest exhibit of the year
Show features paintings, sculptures and multi-media
Ragland's abstracts inspired by travels
Former Park City resident Greg Ragland, who has lived in Ivins for the past three years, will show two new paintings — a diptych, or a two-panel pice, called "Avignon France" and a horizontal called "Park City" — in the show.
The works mark a departure for Ragland.
"Park City" is 36 inches by 64 inches, so it's a little different than what I generally do, which is a square format," he said. "The diptych is comprised of two paintings that measure 27 inches by 18 inches."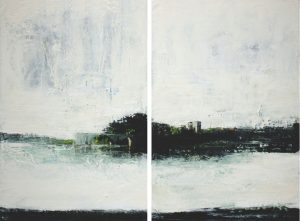 Both works abstracts were inspired by Ragland's travels.
"There was a variety of places we went, and we stayed in some places for an extended amount of time, but the thing that I noticed that made each place similar, was the time of day when the sun was either setting or rising," he said. "At those times, the sky was light and the landscape was dark. It seemed to like the scenes were in black and white and I wanted to capture that in an abstract and gestural way, like how Franz Kline did his art back in the old days, and then add my own twist with some color."
The medium for both pieces is acrylic-based, but also features elements of multi media.
"The surfaces are more developed than in the past because I have created textures on paper and other materials and attached them to the canvas by laying paint over them," Ragland said. "Once I attach the textures, I layer over them more or I scrape back to reveal the color through the other paint.
"I also did them in a way that if you wanted to, you could turn the paintings on their sides and they would still work as abstract works," he said.
Scott Iwasaki
arts@parkrecord.com
Save
Save
Save
Save
Save