Artist Statements Gallery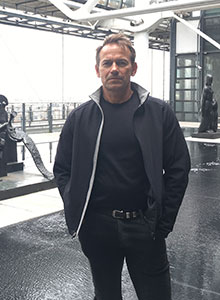 PARALLEL LAYERS
These paintings are non-verbal thoughts of my environmental experiences from cities, mountains and deserts.  The places I have lived influence my work.  From the soaring skyscrapers in New York City to the expansive groves of aspen trees in the mountains of Colorado to the dynamic red rock cliffs in deserts of southern Utah.  There is a aesthetically pleasing fractal pattern that unites these environmental locations as well as  this body of work.  The power of the repeating chaotic vertical patterns in nature share a similarity with controlled architecture elements of buildings reaching to the sky in cities.  This series of paintings does two things simultaneously.  First they draw on the infinite complex fractal patterns to make a visually stimulating painting.  At the same time the various degrees of self-similarity are aesthetically pleasing, calming, and possess a stress reducing effect on the viewer.
~Greg Ragland
Save
CONTEMPORARY WILDLIFE
This series of vibrant paintings strike a balance between painterly abstraction, rich passages of color, and elegant, delicate elements of nature. A modern take on wildlife art.  These paintings use large expanses of color with detailed moments of eruption.  My work is unique in that I use hyperrealistic imagery as interruptions in the monotone fields. These paintings are freeze frame glimpses of nature's creatures in abstracted color compositions. They are abstracted, voyeuristic portals to nature's amazing visual gifts. These paintings bring nature indoors and give the viewer the opportunity to get lost in the calming simplicity and the seductiveness of nature.
~Greg Ragland
Save
Save
Save
Save
ABSTRACT LANDSCAPES
This new body of abstract, landscape paintings are a visual diary inspired by my various travels in 2017.  The paintings are from memory inspired from Yellowstone, Park City, Villages in France, hills and water of St Maarten and San Juan Islands in the Great Northwest.  The feeling is just before night or early morning when the sky is light and the landscape is dark without detail.  The surfaces are rich with texture, bold mark making and layering of the paint.  The color is almost black and white but with some very subtle and sophisticated spots of interest.
~Greg Ragland
Save