Artsy Editorial: Naturalism Emerges from Abstraction in Greg Ragland's New Paintings
Nov 14, 2014 2:00PM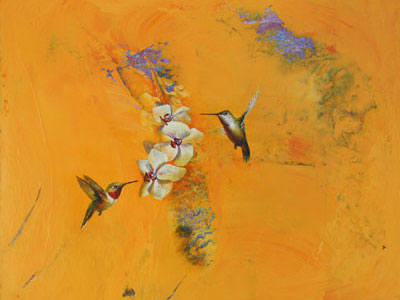 Greg Ragland's vibrant paintings strike a balance between painterly abstraction, rich passages of color, and elegant, delicate elements of nature. Two dozen of the artist's recent works are now on view at Larkspur, California's Gallery Bergelli, a North Bay venue specializing in contemporary art from the surrounding region, in addition to international artists. This part of the United States is known for its natural beauty, and fittingly, Ragland is known for his attentiveness to nature and appreciation of its form and beauty. In the works in his new exhibition, "Attraction," he combines the aesthetic sublime with images of natural wonder.
"These paintings are freeze frame glimpses of nature's creatures in abstracted color compositions," Ragland says of his recent work. "I experience nature by watching the flight of birds moving through the sky, listen to leaves moved by the wind and the songs of birds." Ragland's paintings feature monochromatic grounds in painterly textures, adorned with fine, detailed depictions of hummingbirds feeding from wildflowers. This juxtaposition of abstract reductivism and precise naturalism emphasizes the aesthetic choices and artistry of both modes. In Harmony in Red (all works 2014) the rich crimson surface developed by Ragland swirls inward, toward the painting's center. There, a sky blue scrape of acrylic paint is overlaid with a small burst of orchids, met by green-and-cream-colored hummingbirds. The birds' beating wings mimic the movement and shape of Ragland's brush across the canvas.
Following from Color Field artists such as Jon Schueler and Otto Piene, both of whom interweave large expanses of color with detailed moments of eruption, Ragland's work is unique in his use of hyperrealistic imagery as his interruptions in the monotone fields. In many works, such as his "Rhythm in Blue" series, the boughs of flowers fed on by birds arise from graceful arcs of color. In another work, Attraction, flowers bloom from textural swirls all over the image, fed on by the small birds. The miasma of blue glows at the center and is impregnated with small green and yellow highlights throughout, complementing the birds and heightening the contrast of the dark blue passages that birth the floral details.
Ragland's work underscores the natural beauty of the world, both in the specific form of its beasts and herbs, and in its general contours of textures, form, and colors. In his combination of these two approaches, he shows how art can bring together seemingly disparate visions of life, and make them harmonious.
—Stephen Dillon