Greg Ragland: A Moment in Flight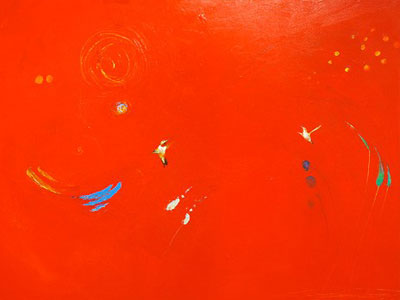 Gallery Bergelli is pleased to present "A Moment in Flight", an exhibition of new paintings by Greg Ragland. The exhibition opens on Saturday, October 20, with a Gallery Reception from 4pm-6pm. The Artist will discuss his work at 5pm. The exhibition continues through November 21, 2012.
Greg Ragland's paintings have a sense of playful serenity about them. His colors and compositions flow together to create depth and movement of which his subject, the hummingbirds, are able to take flight within his work. "Composition and color are key. I want to control, I want to predict the gaze of the viewer, where they enter and exit the painting. Compositionally, the birds give the paintings the freedom not to be grounded," Ragland remarks. Hummingbirds are a garden favorite; their aerial acrobatics are always a pleasure to watch. Ragland is able to capture these tiny birds rapid movement on his canvases, showing us a moment in time of their fast paced lives. The artist refers to the calming and bright backgrounds of his paintings as "Color Fields," in which these small energetic birds play. "My intent as the artist is for the viewer to get lost in the calming beauty of these spontaneous experiences in the nature within the seductive "Color Fields."
Greg was born in Augusta, Georgia and grew up in Colorado Springs, Colorado. He studied architecture at Arizona State university, received his BFA from the Art Center College of Design in Pasadena, California and his MFA from the University of Utah. Prior to settling in Park City, Utah in 1990, Greg worked as an artist in Los Angeles and New York City.
Gallery Bergelli features contemporary paintings and sculptures done by national and international artists. It presents work that is both visually exciting and technically strong in a unique and inviting art space.It is located in an historic building in the heart of charming downtown Larkspur, California. Larkspur, known for its abundance of fine dining establishments, is about 12 miles north of San Francisco. Any art lover or collector travelling between San Francisco and the famed Northern California Wine Country will not regret making the 2 mile trek off Highway 101 to Gallery Bergelli.Open Thursday – Sunday 11-4, Or by appointment
Greg Ragland:
A Moment in FlightOctober 20 – November 21Gallery Reception: Sat, Oct 20th from 4-6pm
Artist Talk at 5pm
Gallery Bergelli (Now Closed)
483 Magnolia Avenue
Larkspur, CA 94939
415-945-9454