Park City artist has a lot on his palette
From public art to theatre posters, Ragland enjoys paints and sculpture
Scott Iwasaki, The Park Record • 06/13/2012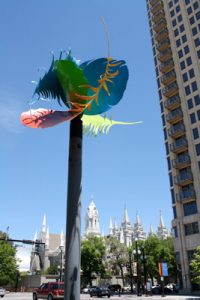 Park City-based visual artist Greg Ragland is a popular man. Not only does the painter and sculptor show his works at J GO Gallery and other galleries in California, Georgia and Colorado, but he has new pieces that have been installed and will be installed in downtown Salt Lake City.
He is also the poster artist for Plan-B Theatre Company, which is currently presenting "Hedwig and the Angry Inch" at the Egyptian Theatre through Sunday, June 17.
His latest soon-to-be public art is called "Feathers in the Wind," which will be installed this weekend at Abravanel Hall. The work was commissioned by Salt Lake City for the Flying Objects 3.0 public art program, Ragland said. "The work is a kinetic sculpture that features three large feathers, measuring seven-and-a-half feet by seven-and-a-half feet, which are welded and intertwined together," he said. "They are painted bright colors with automotive paint and when the wind blows, they will spin."
His next big project will be installed next year at Salt Lake's new public safety building that will be located near 500 South and 300 East. "I'm getting ready to make two large bronze sculptured hands that face upwards on the ground, which is sign-language for the word 'serve,'" Ragland said. "Each hand will be 10 feet long by five-and-a-half feet wide, and people will be able to sit in them. It will take me the whole winter to do them." Ragland has been interested in visual arts since he was a child. "My skill set seems to be working with my hands and art was a way to express myself," he said. "I've always gravitated to working with working with tools for sculptures or painting and drawing. It was something that intrigued me from when I was six or seven and I haven't stopped yet."
Ragland's family wanted him to be architect and he enrolled in Arizona State University to study architecture. "I really didn't have a career path set, and I had originally wanted to pursue art, but my parents pushed me into architecture, because it seemed like a career where I could actually make a living," he said. "I also had an uncle who was an architect and he encouraged me to pursue architecture as a career as well." However, after taking some college classes, he decided art was the way to go. "Since art was something I had done all my life, it was like a comfort zone for me," he said. "It defined who I was as a person. I felt good doing it and I got some accolades for it."
Unlike some artists, Ragland enjoys working in both sculpting and painting. "I would hate to give up any one of them," he said. "Painting, for me, is where I feel most comfortable. The thing about painting is that there is an interesting mix for me about what I paint. I like painting some things that are abstract, but I also like to show I can render. So, I combine those things in my works." Ragland likes working with acrylics. "I paint my small pieces on panel and the larger ones are on canvas," he said. "Acrylics seem to get a bad rap sometimes because some people think of them as cheap and cheesy because of the way they are applied. My goal is to paint with them as if they were oils."
Ragland enjoys sculpting because it not only involves working with his hands, but his whole physical being. "I move things around, especially the public art pieces, because they are so large," he said. "I love the idea of three-dimensional work, because it's interactive and you can move around it. That means the problems that come up have to be solved on all sides, instead of just on a two-dimensional surface. "Sculpture pushes me out of my comfort zone and I love that feeling," he said. "That's why I like to experiment with different media and explore myself."
Regardless of what media he uses, Ragland always starts off a project with a drawing. "That gives me a vision of what I want the project to look like," he said. "But if it's a sculpture, once it's scaled up, it becomes a whole new different ballgame, because everything scales up differently." Throughout the years, Ragland has developed a method that has helped him keep things in perspective. "I usually try to plan enough time on the project so I can meditate on things before I go to sleep," he said. "After a week or so, especially with big pieces, I know what I want and the idea and imagery appears to me while I sleep. When I wake up, I have a clear vision for solving each of the individual problems of the sculpture." Ragland's sculptures are made of cast resin, bronze and mixed media.
"The public art sculpture materials are determined by the location where they will be displayed," he said. "I also weld and I do steel sculptures and have some pieces that are fabricated aluminum."
When creating posters and scenery for Plan B Theatre Company, Ragland relies on his friendship with the company's director Jerry Rapier. "I've known director Jerry Rapier for years, and I have been doing posters for his plays since 2001," Ragland said. "He's a fabulous director and has a wonderful ability to see how a show comes together." Ragland gets scripts from Rapier and reads them to get ideas. "He then gives me free rein of how I can illustrate the story without giving anything away," Ragland said. "Jerry may give me some suggestions if he feels he needs to, but that's still pretty loose. My approach is that I want to create a little mystery with a striking visual."
Greg Ragland's art can be seen during Plan B Theatre's production of "Hedwig and the Angry Inch" that runs June 14, 15 and 16, 8 p.m. and June 17, 6 p.m., at the Egyptian Theatre, 328 Main St. Tickets range from $20 to $30. For more information and tickets, visit www.parkcityshows.com.